32
Rhoden: Lustgarten-Kunstpfad

Beschreibung | Aktuelles | Archiv | Kontakt

Barbara Beisinghoff: Ausstellungen in New York, Februar 2020
Blueprint in womenswork.art in Poughkeepsie, NY, vom 7.-16.Februar 2020
Künstlerbuch Präsentation am 12.Februar 2020 im Vassar College, Poughkeepsie
Messestand auf der Booklyn AB/Z Fair vom 21.-23. Februar 2020 in Greenwich Village NYC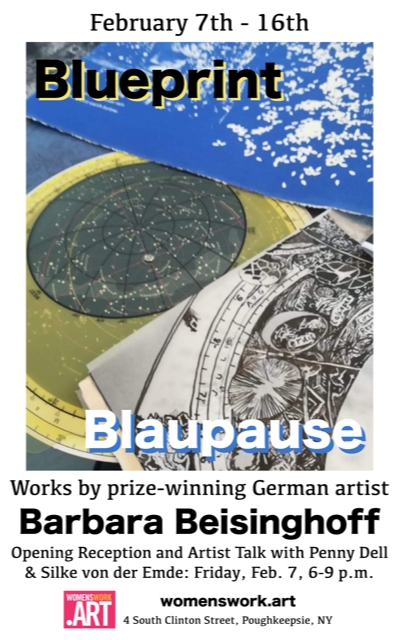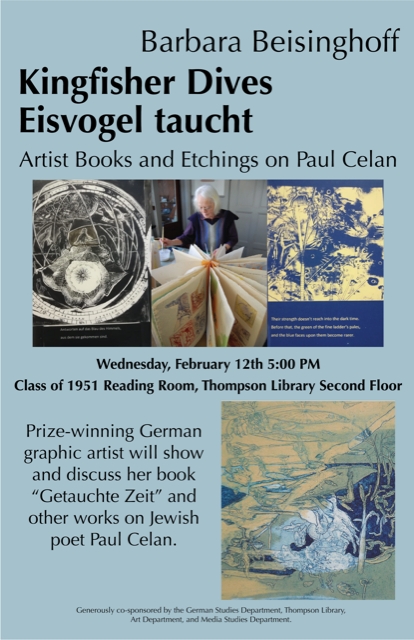 Dear friends,
we are very happy to invite you to some exciting events with Barbara Beisinghoff, prize-winning graphic artist from Germany, who many of you know from her residency here at Vassar College in Fall 2016.
On Friday, February 7, Barbara's exhibition "Blaupause / Blueprint" will open at WomensWork.Art on 4 South Clinton Street and we'll have an opening reception and artist talk with Barbara from 6 - 9 PM.
On Wednesday February 12, 5 PM, Barbara is going to show and discuss her artist books and etchings on Paul Celan and other new works in the Class of 1951 Reading Room, which is on the second floor of our beautiful library.
A little reception will follow. All are welcome. Her talk is entitled "Kingfisher Dives / Eisvogel taucht".
Barbara is also going to show her artist books at the Booklyn AB/Z Fair (part of the Greenwich Village Antiquarian Book & Ephemera Fair) from February 21-23, John Meiser Charrette School, 490 Hudson St., Greenwich Village, NYC. We are looking forward to seeing many of you there!